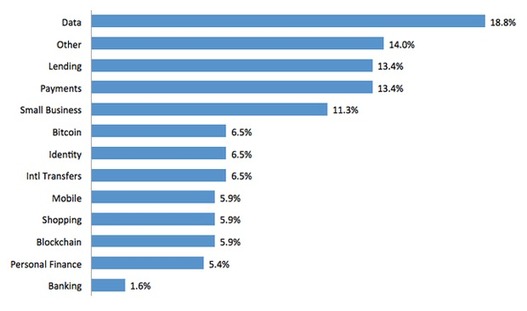 Fintech hackathons and competitions occur globally. In January 2012, Swift launched theInnotribe Startup Competition as an initiative to bring together disruptive startups and incumbents in financial services…
Source: radar.oreilly.com
Very interesting overview of the most popular sectors for Fintech startups (or at least those that manage to win events such as hackathons).
I am happily surprised by the number of startups involved in data analysis (which is one of the most promising opportunities in my opinion). I am not too surprised though by the large number of startups in payments, lending and SMEs, they are usually quite popular sectors.
It seems that Blockchain is under-represented in the rankings, especially considering the huge noise in that space.
And if there was one obvious category missing, that would clearly be insurance. They might be aggregated in "Others", but still it shows that the focus on Insurtech is still very low – this is certainly one of the interesting opportunities for startups in financial services.
If we take a step back, it's quite incredible that the writer found 186 winners across 18 Fintech competitions – how quickly the world has changed in just a few years, where there were not even 186 Fintech startups globally! There is definitely a healthy eco-system for entrepreneurs in Fintech today..
And on a separate note, very proud to be on the advisory board of Trusting Social – one of the 4 startups mentioned (out of 186).
Follow me on Twitter here
And my blog here