For the last few years, there has been a huge competition for the title of "Fintech capital of the world".
My view was that London had an ideal combination of 1) ecosystem, 2) talents, 3) Fintech-friendly regulator and 4) political willingness to support entrepreneurship. Which made it the most active Fintech place in the world, well ahead of other places such as New York, Singapore, Hong Kong, Berlin or Paris. Although, being based in London might slightly impact my judgement…
Anyway, this was the old world, because after Brexit, I've never had so many discussions with people from international centres who want to benefit from the (supposed?) decline of Fintech in the UK, and attract startups to their countries. Fair game, and good for Fintech of course.
In Europe, it seems that most people view Berlin as the most serious contender to London. But then, let's not forget Paris, home of Compte Nickel and BPCE (which acquired Germany's Fidor), which clearly aims to be a major Fintech hub.
I'm not sure it will be easy though – the success of London was not an easy task, but required a huge effort from a lot of different players, from the government to the accelerators, from the regulator to the startups. So what's the plan for Paris? And should entrepreneurs think of starting / moving their businesses to the City of Light?
I don't have the answer, but Axelle Lemaire, the French Minister for Innovation, should, and she's coming to London next week… If you'd like to know how Paris intends to become a major Fintech hub, then join the Business France conference Thursday where you'll meet :
– a French minister (Axelle Lemaire)
– the financial regulators (ACPR and AMF). It's interesting that both ACPR and AMF mention Fintech on their first pages
– very high profile VCs (Accel, Anthemis, Octopus, Partech)
– startups (Customer Matrix, Go Cardless,Tramonex)
– and the main associations to support startups (Business France, French Tech, France Fintech)
And I forgot to mention it's free (and in English) … So send an email to Jorge if you're interested…
As for me, I'll be moderating the panel where entrepreneurs share their views of Paris vs. London and New York, so don't hesitate to come and say hi.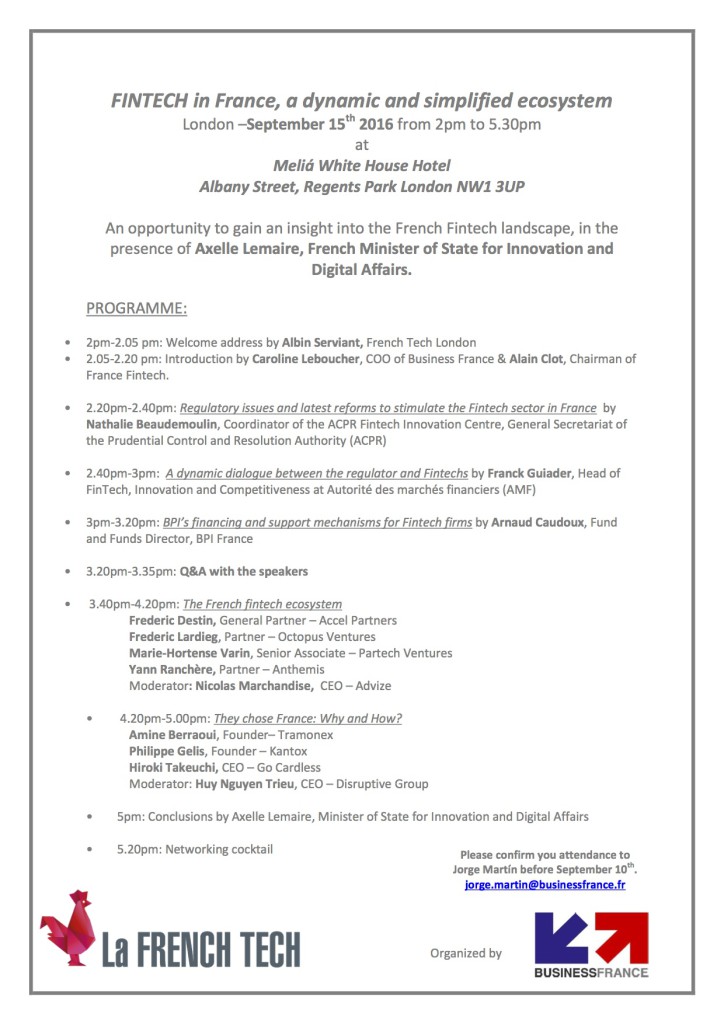 If you want the latest news on Disruptive Finance and Fintech:
– You can enter your email address to receive an email whenever I write a new post
– You can also follow me on Twitter here
And thanks for reading. Don't hesitate to share if you like this post!