Last Thursday, I had the pleasure to co-chair the BBA Fintech Conference with the immensely knowledgeable Imran Gulanmhuseinwala. It's the second time in a week that I attend a conference with two regulators (loosely speaking…) presenting their views. This time, it was the Bank of England and the FCA, the previous week, it was the French AMF and ACPR (more on that in a next blog).
The conference's theme was about collaboration between banks and Fintechs – and clearly, we have seen a huge shift in that space over the last few years, where a few years ago it was all about the threat of Fintech to banks. But then, many startups found that competing with large incumbents is not that easy – because of high customer acquisition costs, customer inertia, etc. – and now have a strategy of working together with banks. This strangely reminds me of what happened in the Internet bubble, where many startups started in a B2C model, and then realised that acquiring customers was very expensive, and then switched to a B2B model. At that point, they realised that selling to a large corp was also not easy… (This is a story I know quite well, because that's what we did at Ukibi in 2000!)
The conference gathered around 200 people, and the audience was mainly composed of bankers – not surprising considering it was organised by the BBA.
The main points I took from the conference:
Loved the presentations from Charlotte Hogg (Bank of England) and Chris Woolard (FCA). I'm not sure the presentations were meant to be shared, so will only mention what is already widely known. It's clear that for both the BoE and the FCA, innovation and technology are very important topics – but not just for startups, also for incumbents. There are a lot of different initiatives for innovators to interact with the BoE (Fintech accelerator leading to POC, roundtable, industry conferences) and the FCA (Project Innovate, including advice unit, sandbox, regtech). They both mentioned that they had interacted with hundreds of organisations, and it's evident from the presentations that they know the ecosystem quite well. I've been impressed by the initiatives of the UK regulators in Fintech for a long time, and yesterday was a great update on their very comprehensive strategies in that space.
Very interesting panel led by Ben Brabyn about the benefit of banks to work with Fintech. I'm a big fan of what Claire Calmejane does at Lloyds, and she was incredibly insightful as usual. I noticed she's started to use the word "de-risk" quite often – which is clearly a key priority for banks now. Loved the quote of Lubaina Manji from Barclays: "you have to kiss a lot of frogs to find your unicorn!"
In the afternoon, we continued on that theme to discuses about the best ways for Fintechs and banks to work together. We asked the audience (mainly bankers) to give their views on the main challenges to make this collaboration work, and the results were not unexpected…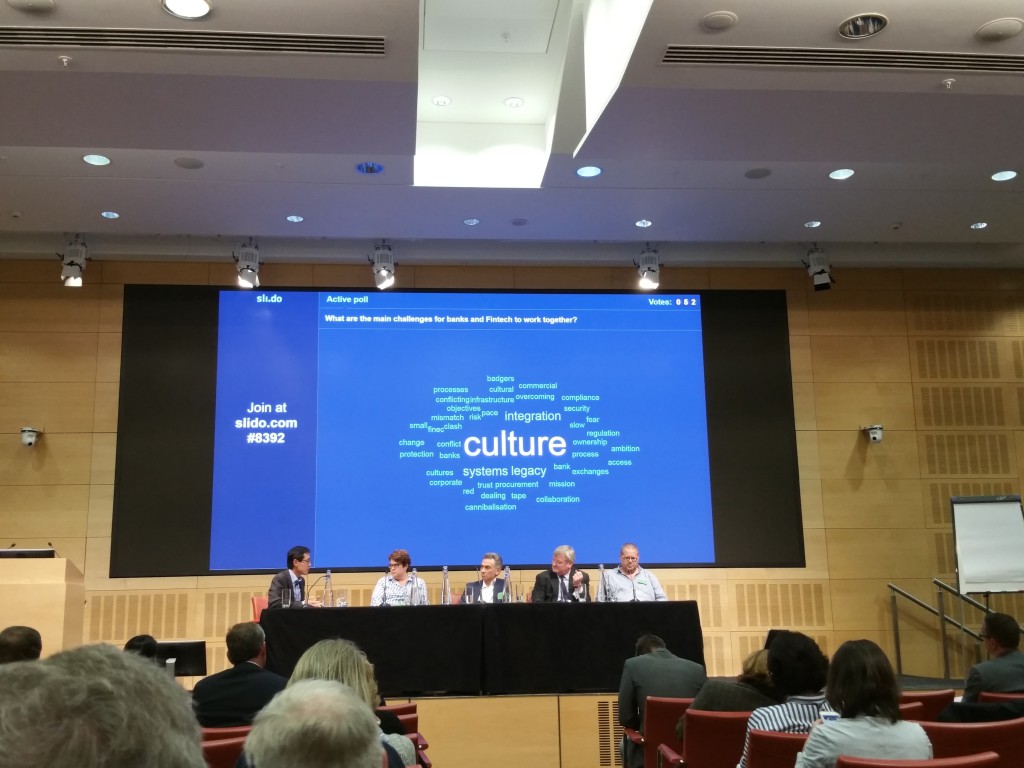 Culture and legacy systems were seen as the main challenges, and although that was mainly the feedback of bankers, I believe that most startups would have said the same. Liz Lumley gave the example of a startup (which I won't name, because I don't know if it was meant to be shared) that worked with a bank, and managed to start a POC after 6 months and is likely to go to contract 6 months later – so great example of a relatively short sales process. Remi Bourrette talked about the RFP process, and how important it was for startups to be well known in large banks like HSBC. Stewart Bromley mentioned the benefits of having a strategic investor like BBVA for Atom, and the access to an expertise and ecosystem that was usually out of reach of a startup. The role of a strategic investor was also mentioned by Mark Tate – BCG being an investor in Opportunity Network.
Dr Katrin Tinn, a professor of finance at Imperial, talked about why money might not be necessary in the future – interesting food for thought. Without going as far, it's clear that many assumptions we have about finance are likely to change in the future.
Michael Bloch and Jonathan Garforth, both from Allen & Overy, talked about regulation, compliance and how they impacted M&A transactions – very insightful, they talked a lot obviously about regulatory due diligence, and that's clearly something to keep in mind even for early stage startups.
Overall, it was a great day. What is very clear is that many Fintech startups now have a business model that requires a strong collaboration (partnership, distribution, sale) with large financial institutions. Most people are aware that it's not obvious to have a 20-people startup to collaborate with a bank with 200,000 employees, and are working to improve the system – and it's great that the regulators are also helping that process. It doesn't mean that it's easy though – and I suspect it will never be…
If you want the latest news on Disruptive Finance and Fintech:
– You can enter your email address to receive an email whenever I write a new post
– You can also follow me on Twitter here
And thanks for reading. Don't hesitate to share if you like this post!